Northwest Regional
Lavender Conference II
October 24-26, 2014
Monarch Hotel and Conference Center
Portland-Clackamas, Oregon
Presented by Labyrinth Hill Conferences
sponsored by
the Oregon Lavender Association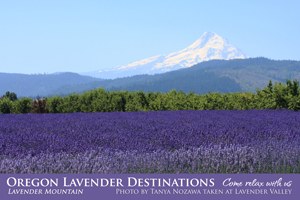 The Inaugural conference in November 2011 was an amazing success, with more than 150 participants from 19 states and three Canadian Provinces. This time we are adding additional break-out sessions and expanding the trade show in one of America's most exciting and progressive cities. The rapidly growing Oregon Lavender Association joins us as principal sponsor and host organization. 
Network with lavender growers from throughout the west and across the continent for three days of valuable education and good times in fabulous Portland, Oregon. The Monarch Hotel offers first-class service and easy access (see Hotel tab for special group rate and transportation information).
NRLC II sessions are geared for:
Established, full-time lavender growers
Small-scale and start-up growers
Support staff of lavender farms
Interested farmers of other crops
Farm industry suppliers
Wholesale buyers and sellers of lavender and lavender products
Value-Added Product Producers
Horticultural Educators
Agriculture Agency Administrators
Master Gardeners
Our great speakers bring their lavender-growing expertise from throughout the region and beyond to provide actionable information to use for future seasons. Click on the Speaker and Program tabs above for details to date. Sign-up here for the latest program updates and breaking news.