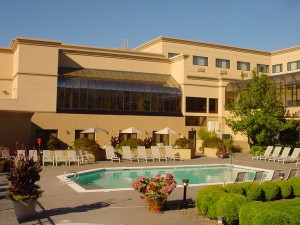 The Monarch Hotel and
Conference Center

We were delighted to find first-class accommodations in the Portland area that offers all the meeting space and amenities we wanted for a modest price compared to downtown and airport area costs. The hotel is providing a $92 per night group rate for October 24-26, AND for 5 days pre- and post-conference. So think VACATION.
Call the hotel direct to make reservations 1-800-492-8700 and mention "Lavender Conference" for the Group Rate. For a complete look at the Monarch facilities, check the hotel website,  www.MonarchHotel.cc (note it's NOT ".com") There's no sales tax in Oregon, so only a 7% room tax is applied to the base rate. Mini-suites also available at group rates.